Petaluma Educational Foundation's Annual Fundraising Gala is virtual again for a second year. The need for support for all schools in the Petaluma area is more critical than ever as teachers grapple with pandemic-era education. And so participating in the Bubbles & Bowties Virtual BASH is easier than ever whether you have kids or grandkids in school, grown up offspring who have graduated local schools, are an educator or simply wish to boost the coffers of an organization that puts amazing grants into teachers hands to enhance the schooling of thousands of students in this area every year.
You don't have to join the live stream to bid now on silent auction items. 
Click here for silent auction items. 
Buy Tickets for the annual restaurant raffle. 
On Saturday, September 11, 2021 there will be LIVE STREAM BROADCAST:  6:00 p.m. - 7:00 p.m.
Guests at THE BASH are united by a common purpose: to raise
funds through PEF in support of all 38 TK-12 public, private, and charter
Petaluma area schools serving more than 12,000 students annually.
PEF manages the Alphabet Soup Thrift Stores with two locations in downtown Petaluma. Proceeds from the stores support the mission of PEF benefiting more than TK-12th grade 12,000 students attending our 38 public, private & charter schools.
SHOP - DONATE - VOLUNTEER @ Alphabet Soup Stores!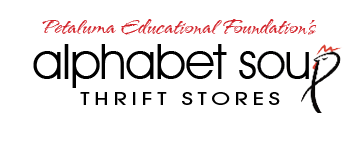 E-mail katy@PEFinfo.com to get more info or to donate items for the silent/live auction.