Why do some places speak to us so mysteriously and yet so forcefully? Scott Hess and John Sheehy pursue that question in a unique new book of stunning photographs and intimate historical stories about the Petaluma River Watershed in Northern California.  Pre-order your copy/copies now and join me in support of these fine, fellow neighboring indie book publishers with their just launched crowdfunding campaign, which offers an early bird discount. 
 Click here for link to the Indiegogo page.
I've borrowed John and Scott's words  & photos from their campaign in this post so you can see what a fantastic creative effort has gone into producing this beautiful book. I predict it will be very popular, especially with the holidays coming up. 
"Our place is part of what we are."  — Poet Gary Snyder
"Our relationship with the place we live is one of our closest bonds. The physical landscape we experience every day holds layers of history, much of it passed down in myths and half-remembered lore,"says John and Scott. "And yet, when that landscape is undergoing change, there's often a sense of being uprooted while still being physically present.In such times, stories deepen our roots. The native Coast Miwok used legends and oral traditions to define their surroundings and themselves. It's no different today. Communities that lose their collective memory of the past lose their sense of meaning and identity."
In their wonderful new book On a River Winding Home, John & Scott have set out to "restory" the Petaluma River Watershed landscape by pairing contemporary photos with intimate tales of the past that have provided the watershed with such a powerful sense of place.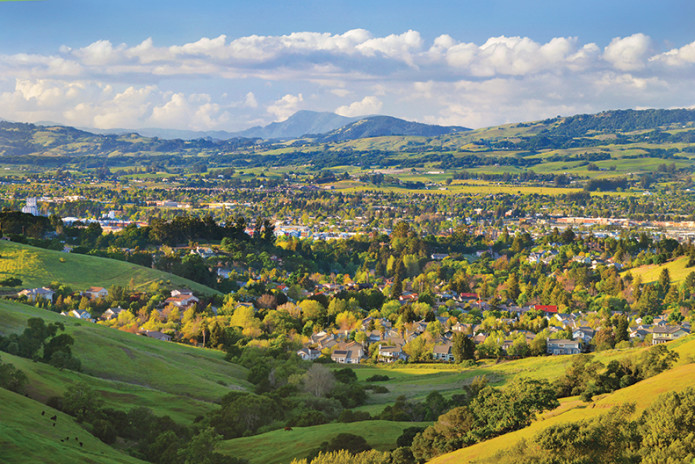 All Photos - Scott Hess     City of Petaluma from the headwaters of Thompson Creek
The Authors
Scott Hess, a longtime Petaluma-based photographer, takes readers on a pictorial journey that reveals the beauty and spiritual grace of the watershed's natural landscape, the bucolic nature of its working farms and ranches, and the historic charm of its river city, Petaluma.
John Sheehy, an award-winning historian and fourth-generation Petaluma native, seamlessly blends Scott's photographs with short stories that celebrate the watershed's colorful history, showcasing a lively cast of characters ranging from the native Coast Miwok, Mexican rancheros, and Gold Rush settlers, to the slow growth pioneers, winemakers, and farm-to-table pioneers of today.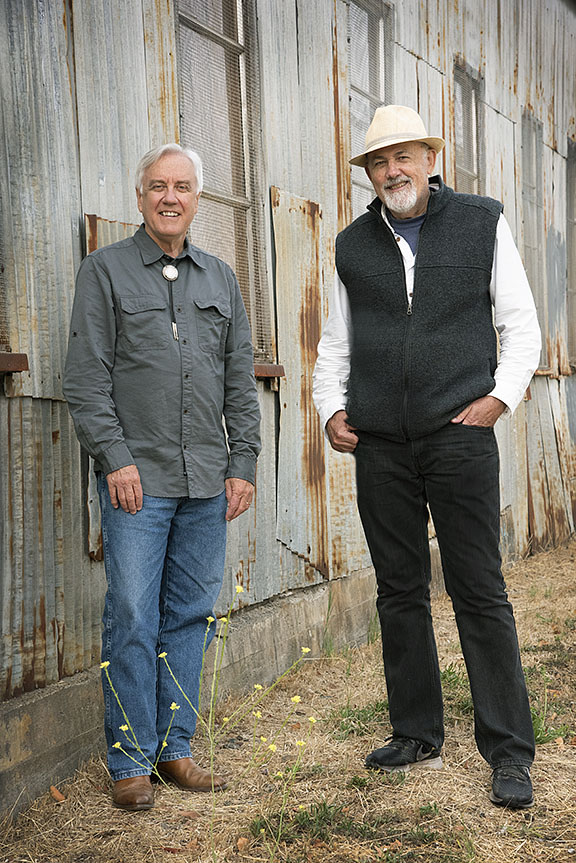 Storyteller John Sheehy (left) and photographer Scott Hess (right).
"If you don't know where you are, you don't know who you are." —Wendell Berry
John & Scott's book book seeks to bring alive the Petaluma River Watershed in all of its complexity, both past and present. It is designed for place-loving people, specifically those already rooted, becoming rooted, formerly rooted, or even re-rooted in the area.
By pairing contemporary images with stories of the past, they hope to increase awareness of the delicate balance the watershed must strike in protecting its unique natural, social, and historic-built environments, while at the same time evolving forward. Communities are built by nesters—those who settle, and in settling come to deeply know, love, and care for the place they have settled into. Their books seeks to foster and deepen that fundamental commitment.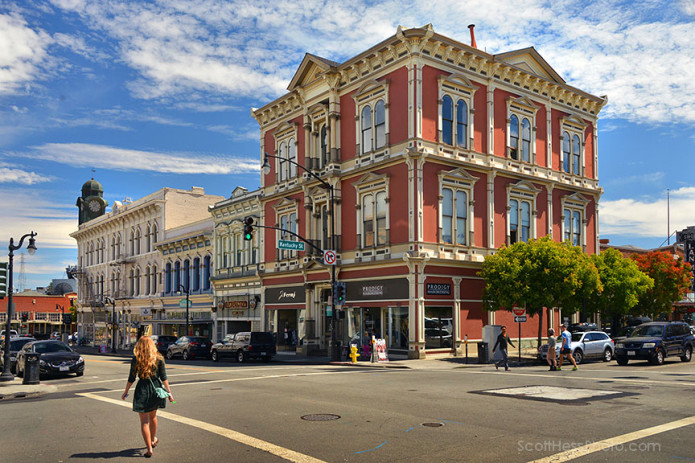 Mutual Relief Building, Kentucky Street and Western Avenue
The book is divided into three parts: the native Coast Miwoks, the working landscape of farms and ranches, and the river town. Particular locations have been selected with the aim of expressing the watershed's unique beauty, both in the natural and the built landscapes, and the strong sense of place the watershed has provided for generations.
Part rambling walking tour, part voyage to the past, On a River Winding Home will be published in early November 2018, just in time for the holidays.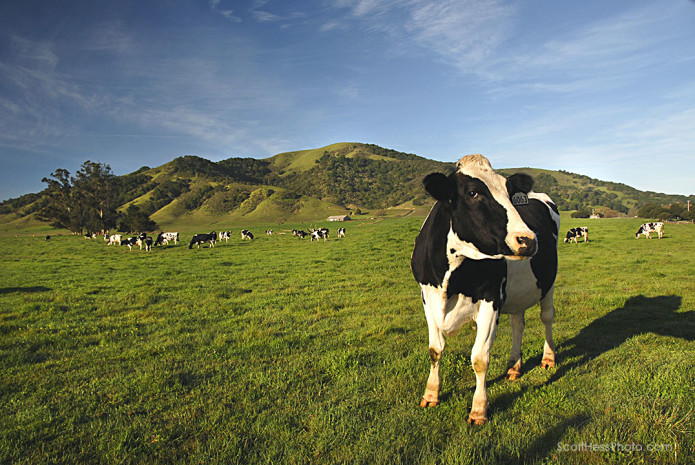 Holstein cows, Spring Hill Road
A limited edition of the book will be published in a  hardcover, coffee table format of 8 3/4 x 12 inches. Made up of 232 pages, 70,000 words, and 133 images, the book will be printed on high quality, dull-coated art paper, and Smyth sewn with a litho-wrapped cover.
Beautifully designed by designer and artist Laurie Szujewska, On a River Winding Home is a book that you will want to display on your coffee table long after you've finished reading it, both to share with friends as well as to remind yourself of what a fascinating, dynamic place the Petaluma River Watershed is.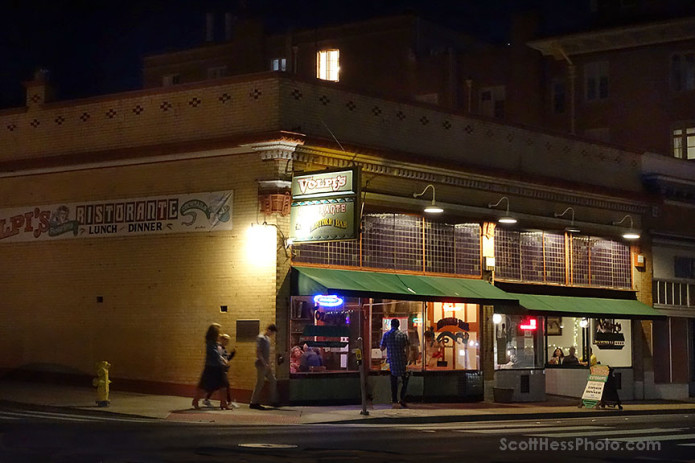 Volpi's Ristorante, Washington and Keller Streets
Advance Praise for On a River Winding Home
"This is a truly wonderful book, in the poetry of the writing, the meticulous research, the knowledgeable commentary, and the vivid photography. I'm going to buy it the second it comes out." —Adair Lara, author of History of Petaluma: A California River Town
"Story-telling at its best, with delicious images of the special place that can only be Petaluma." —Lyndi Brown, Sonoma County Gazette
"This book is a must-read for anyone who lives in the North Bay." —Chris Samson, Petaluma Argus-Courier  editor 1984-2012
"A treasure trove of intimate, colorful images and impeccably researched history — paired to both delight and inform." —Frances Rivetti, author of Fog Valley Crush
"The book is drop dead gorgeous. . . it should grace every coffee table and bookshelf from Petaluma to Pittsburgh." —Suzanne Farver, former executive director, Aspen Art Museum 
"This is a fine, handsome book, telling many of the best stories of old Petaluma." —Lee Torliatt, The Sonoma Historian
"The stories and portraits of the fascinating people who came to live here and make the land their own are the best I have read . . . anywhere. Bravo!" —Skip Sommer, Petaluma Argus-Courier